Are you looking to improve your chances of conceiving naturally?
I offer a very unique natural treatment for infertility. This program originates from the philosophy of Dr. Leon Vannier. The highly esteemed Liz Lalor (Homoeopath) further developed it into her successful program, which has a success rate of over 80%. I have trained directly with Liz Lalor herself. She regularly refers clients to me when she's lecturing internationally, training other health care practitioners about her highly effective fertility program.
Have you already tried conventional IVF but been unsuccessful?
IVF is an extremely expensive and at times, invasive process. If you are looking for a natural alternative OR you want assistance to "boost" your chances of having a successful IVF journey, this program is for you.
Many woman have come to see me who have been unsuccessful with conventional IVF. Some of them have wanted to improve their chances of conception whilst giving IVF one more go. By getting them on the FertileMe Program between their IVF cycles, I have helped many clients fall pregnant successfully- much to the relief and joy of all concerned! I'm thrilled to do this kind of work and in fact this program was responsible for bringing my beautiful niece into the world!
Why choose this program

This natural fertility program is perfectly suited to you if you are experiencing any of the following:

What to expect

This fertility program helps prepare the body for a successful pregnancy, even when conception in the past has been unsuccessful or difficult. 

I will work for up to 6 cycles with you.

My statistics prove that if I'm successful in helping you achieve pregnancy, it will occur in that time frame. I work with couples before starting or returning to IVF. 

There is a proviso that you allow a mandatory 2 months treatment with me before starting or returning to IVF. I understand this might not suit your time frame, but this is the advised period of time to improve implantation issues.

This program also works with all prescription medications. I also work with P.C.O.D. and women already taking medications to stimulate ovulation. I also work with single women, and same sex couples.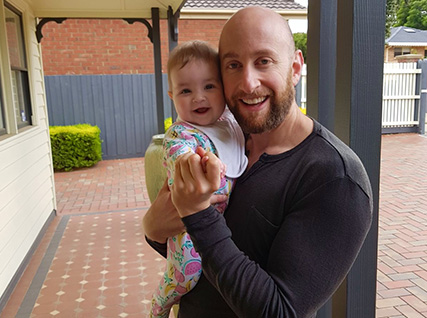 Want to see more?
If you would like to start this program right away or have questions, please feel free to give me a call or fill out the form below.
Based on 12 reviews

Book me for a casual free 15 minute conversation
There's no obligation

Get to know me and my services

Plan your next steps
I understand you may want to speak with me first to see how I can best help you. Please feel free to book in for a casual conversation with me.
Get in Touch